Maui Housing by Price Point…
Our real estate market has been generally very stable. We have seen a slight (4-6%) increase in prices over the year in all. Some areas are stronger than other but in general it is very stable. This article will dive deeper looking at the Maui housing by price point for properties to be purchased.
Prices are fairly stable, and yet inventories (available homes for sale) are at lowest points ever. I split our market below into 3 price ranges – Median, In-Between, Luxury:
<$599,999 (blue) which is about our median price for all property types. Median means that half the sales are under this price and half are over.
Luxury (in

green

). Luxury is defined as the top 10% of the market. Year to date, that makes anything sold for $1,350,000 or more defined as luxury.
The in-between median and luxury – shown in

red

on the chart below.
Housing Shortage for Median Priced Homes
As you see, the number of homes/condos available for sale below median sales price is at the lowest it has been since 2005. This lack of inventory will continue to drive prices up. It is true across all all price brackets and is most severe for lower price points.
You can see the seasonal 'bumps' in all price brackets. Typically, the inventory starts going up October each year and peaks around March. This year at the below median bracket, there was barely a bump and then it has descended. Since this is showing 3 month rolling data, we may see slight upticks in future months.
DATA IS LIVE!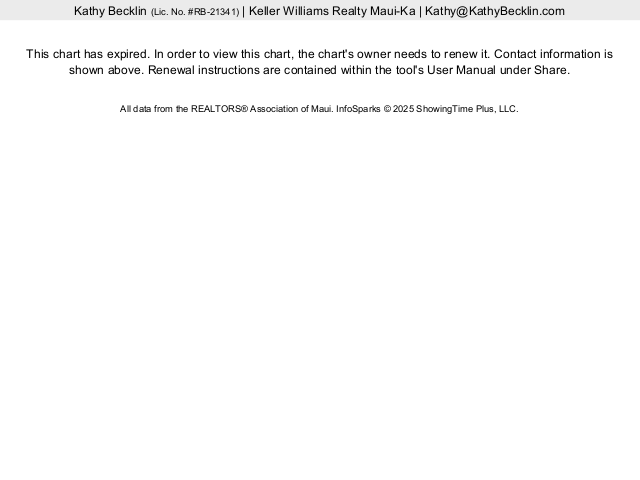 Housing Issues not just Buying/Selling
The real estate market does not define Maui's entire housing issue. We are seeing more lower-income construction happening which is great. I would like to see more ways to build higher incomes! It concerns me to see so much absurdity and contradiction in the County rules that generally does not support good landlords. This is not all the issues but my "hot-buttons" of the month. The answers are complex but I personally don't understand the following issues:
Why are they limiting "wet bars"? Essentially this cuts out ability for people to create a legal 'ohana? I would love see them approve these if the permits also make sure there is adequate parking to support multiple families. I am a believer that steps to enable "legal" living spaces are steps forward in solving our housing issues.
On 2 acre properties, why is the secondary dwelling ('ohana) limited to 1000 sq. ft? Seems like an arbitrary size that doesn't really have any logic. It is abused by adding large lanai's, garages, etc. How about just stating that 'ohana must be <50% (or whatever) the size of the main home?
Why would you make it harder for landlords to do business? I didn't hear what happened but a recent proposal would make landlords have record all leases with the Bureau of Conveyances (supposedly to keep them from doing short term rentals) to qualify for apartment property tax rate ($6.32) vs condo property tax rate ($9.37). This is mixing apples and oranges and at best would create more county jobs instead of helping expand long-term rentals.
Have questions? Looking for a complex or comparing a few? Contact Kathy at 808-344-0469.

Maui Market Snapshot. 1-page PDF report showing trends for each Area of Maui